Online Diversity Training Courses
The Vernā Myers Company (TVMC)'s  e-learning courses provide all the benefits of a traditional online diversity training program along with dynamic video chapters led by Vernā Myers. Access your TVMCU e-learning courses 365/24/7 – anytime, anywhere, with a computer, tablet or smartphone.
Online Diversity Training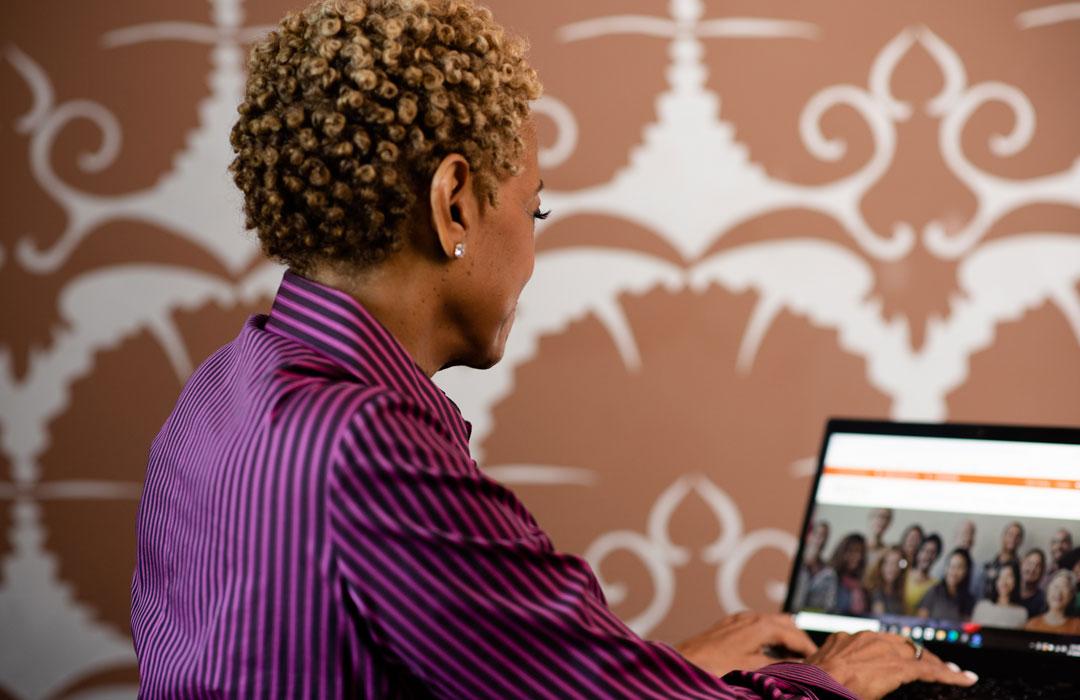 Most of us think of ourselves as kind, fair, and well-meaning, and we are. But being well-meaning is not enough when it comes to creating inclusive workplaces. Leaders, managers, and employees at every level need to gain awareness regarding the barriers and drivers to inclusion and, more importantly, build the skills necessary to make inclusion a day-to-day reality. The impacts of the modern day pandemic have only intensified this need, changing our work and training landscape forever. The entire approach to training is going to change and how we keep people engaged is going to be even more vital.
We know that diversity training is not a "one and done" exercise. It's a lifelong journey that starts with the decision to make important strides in advancing the cultural competence within your organization. In a recent piece by The Institute for Gender and the Economy, the data presented concluded that "people attending a typical training program would be 64% more likely to experience an increase in their knowledge or skills around diversity than someone who does not attend that program."
Diversity and inclusion training is an important issue for managers as well. Recent data from Glassdoor found that nearly 70% of executives found that diversity and inclusion was an important issue in the workplace. That's a huge number and a vote of confidence that most organizations are prioritizing diversity and training programs.
LinkedIn's 2019 Workplace Learning Report survey data confirmed that "74% of employees want to learn during spare time at work," concluding that "employees want self-directed learning opportunities accessible in the flow of work. One way to accomplish that is through online learning, which enables employees to learn in the moment of need."
TVMCU e-learning courses provide critical and thought-provoking training for your organization's employees. People are becoming more comfortable with working from home and online diversity training has become a more common, more acceptable method of employee training.
Some key benefits for online diversity training include:
Provides flexibility. With working from a home office being the new normal for today's professional, online diversity training provides the ability to access important training modules from any location with Wi-Fi. From the privacy of their own home office or from a coffee shop on the other side of the world, online training reduces the barrier of 4 walls around your professional diversity and inclusion journey.
Saves time. As employees gain more flexibility to managing their online diversity-training schedule, they also find they no longer need to make time to get to and from pre-scheduled trainings. Simply put, the flexibility and mobility of online training gives employees a more time efficient way to learn without spending needless time on preparation.
Reduces cost. No hand-outs or physical training manuals and in many cases no impact on billable hours. Online learning reduces most of the overhead costs involved in a traditional in-person approach to training.
Offers better engagement. When employees are given the responsibility to learn on their own, without the pre-scheduled meeting reminders and colleagues sharing in the training, their ability to engage with the content is strengthened by the pure fact that they are able to learn on their terms. Having the ability to go back to review key parts of each training module to relearn or practice allows for better overall retention of information.
Offering flexibility and deeper engagement while saving time and reducing costs, indeed, launching an online diversity training program in your workplace can be an instrumental part of your overall diversity and inclusion training program.