The Vernā Myers Company invites you to a
Special, Small Group Webinar with Vernā Myers

Have you been witness to one of Vernā's powerful keynotes or attended one of her courses and wanted time to ask her questions that matter most to you? Now is your chance!
Join us for a unique opportunity to be part of a virtual conversation with Vernā Myers. Whether you're striving to get your DEI initiative back on track, need tips on how to be a more inclusive leader, or seek practical solutions for overcoming biases in the workplace, Vernā will help you go from well-meaning to well-doing in a small group, interactive, and informative discussion.
Purchase 50 seats or more for our Confronting Imposter Syndrome course and you'll receive 1 seat to attend this small group, live webinar with Vernā to take place on MONTH X, 2021 at xxpm EST/xxam PT.
If this past year has left you feeling anxious, confused, or even unsure of how to understand and strengthen your personal and professional DEI journey and organizational initiatives, then this webinar is for you! Secure your chance to meet with Vernā and learn from other participants about DEI trends, best and new practices. Seats are limited to the first 25 participants so be sure to register today.
---
About Confronting Imposter Syndrome by Vernā Myers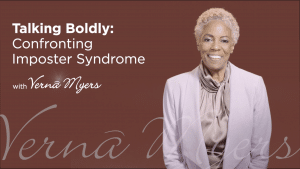 Imposter Syndrome is common in all aspects of life, but most often professionally. Learn more about this dynamic video course, Confronting Imposter Syndrome by Vernā Myers, which teaches skills for recognizing, understanding, and breaking through Imposter Syndrome. It is designed to be watched by people in all job categories and positions. In the video, Vernā defines two types of Imposter Syndrome, and using stories, examples, and humor, she invites you to recognize and overcome Imposter Syndrome so you can put your best foot forward.
---
Email us to purchase 50 seats for Confronting Imposter Syndrome and secure your seat at the webinar.